I created the plugin "WP Vimeo Videos" to allow site admins and editors to upload videos to Vimeo directly from the WordPress dashboard or Gutenberg editor and embed those.
There are many reasons why i developed this plugin and the primary reason was to help us and speed up the process because we were running multi-author blog and it was not safe to share Vimeo credentials with everyone.
In this article i am going to write on how to make it possible to upload videos to Vimeo from your WordPress website and in your post editor via Gutenberg. Besides uploading we will also see how to embed those videos in your content
Getting Started
I created WP Vimeo Videos plugin just for this purpose. The plugin enables the site editor or administrator to upload videos to Vimeo from the WordPress dashboard or the Gutenberg editor. The plugin can be found in the WordPress plugin directory.
1.) Install and activate the plugin
To install the plugin go to Plugins > Add New and search for WP Vimeo Videos click "Install now" and then "Activate" the plugin from here.

2.) Sign up at Vimeo Developer portal and create app
To continue using the plugin and successfully connect it with Vimeo you will need to sign up on the Vimeo Developer Portal. You can sign up free of charge!
Assuming that you successfully sign up the next step is to create app that will be used to connect your website with Vimeo. Click "New App" in the top right angle and create your app.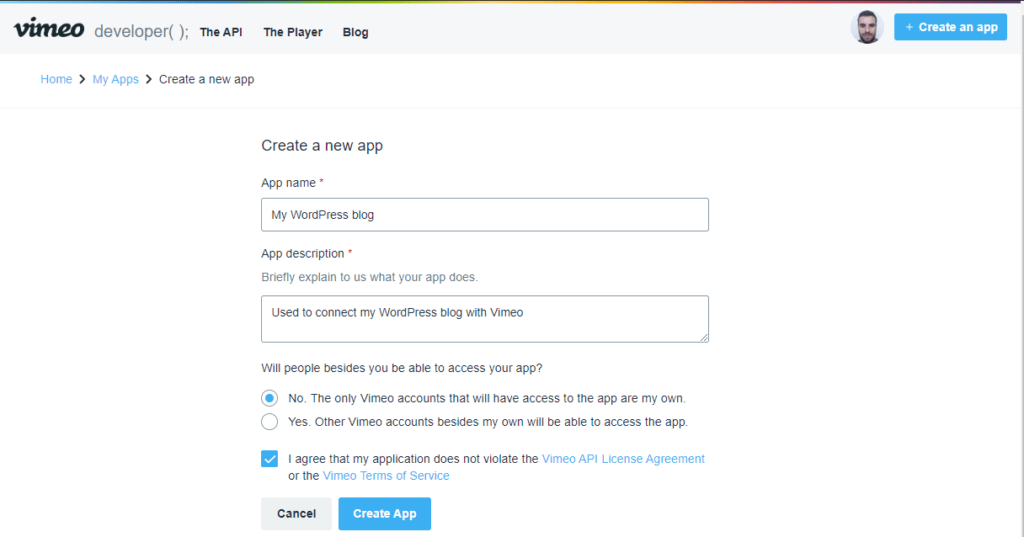 3.) Request upload access from Vimeo
To be able to connect the plugin you will need to request upload access from Vimeo. Assuming that you successfully created the app in the previous step you need to click the button "Request Upload Access".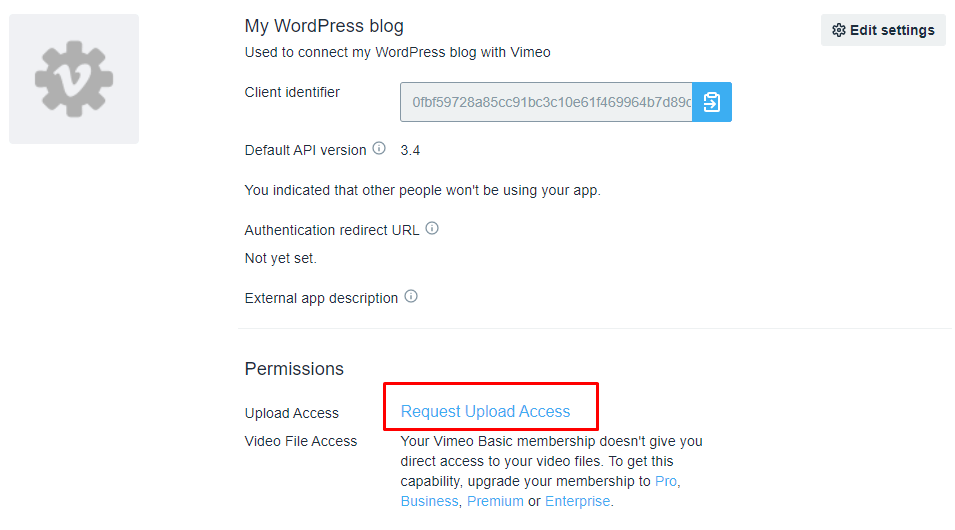 Friendly Note: The requests are approved in 1-5 working days and you will not get them immediately. When your access is approved you will se "Your app has access to upload to your own account" and voila! 🙂
4.) Creating API Credentials and Access Scopes
The next step is to simply generate api access credentials and access scopes / permissions. In the "Authentication" section select "Authenticated (you)" and then select the required scopes as in Figure 4 and hit "Generate"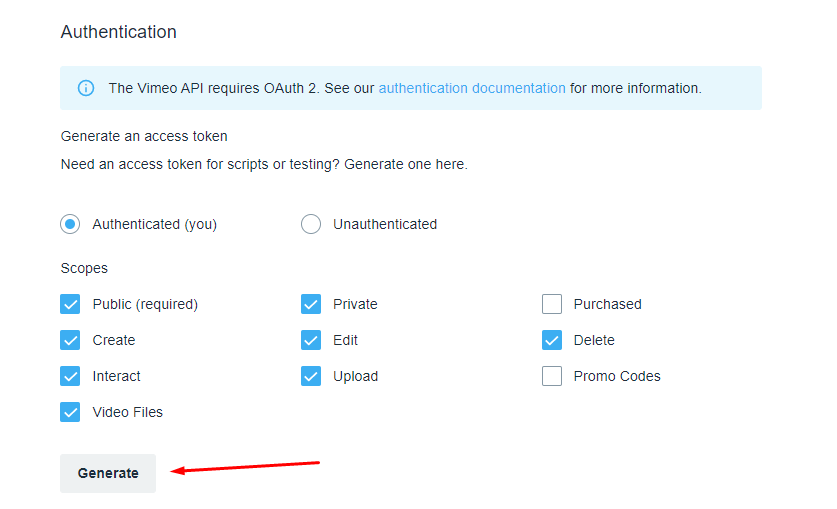 5.) Setup the plugin
The final step is to enter the credentials in the plugin, after "Generate" button you will get "Access Token". Copy it or save it somewhere securely.

Go to your WordPress Dashboard and in "Settings > Vimeo" you will be asked to enter:
Client ID ( Near the app name in the top in the Vimeo Developer portal )
Client Secret (See Figure 5)
Access Token (See Figure 5)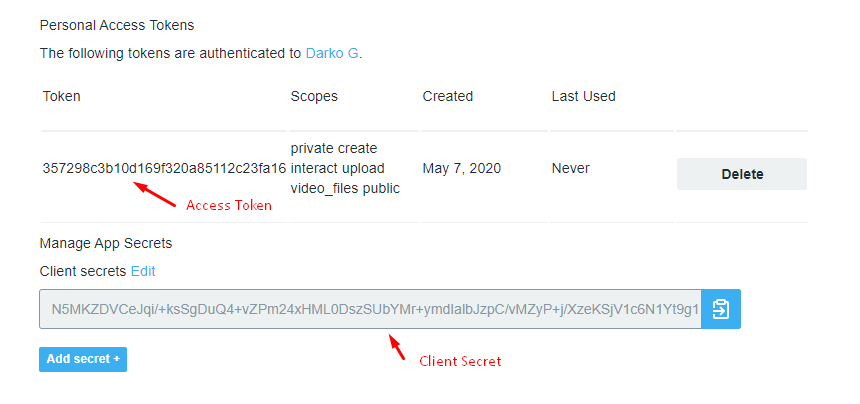 Once you entered the credentails click save and you will get something like in Figure 6. If you see "Connected" then everything is fine and you can start using the plugin.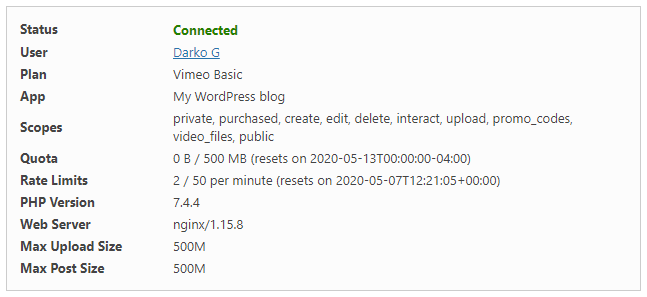 Using the plugin
We are all set up at this point and ready to start using the plugin.
You will see new menu item "Vimeo" in the Media submenu ("Media > Vimeo") and from this page you can upload new or see existing videos with instructions for embedding.
Also, you can embed the videos through the Gutenberg block. CheckFigure 7 to see how it looks. You can find the block under the name "WP Vimeo Upload".
I hope i have been helpful enough. If you have any questions feel free to contact me or also check the plugin documentation.